Sigfox Technology – Make Things Come Alive
With the rapid growth of the Internet of Things (IoT) paradigm, another important technology appears in the research field that helps in earning a high-performance wireless communication between devices, it is called low power wide area network (LPWAN). LPWAN technology has many technologies but there are four main technologies: LoRa, Sigfox, NB-IoT, LTE-M. These technologies have been put into practice in different countries and territories. In particular, Sigfox technology has many outstanding advantages which is a promising technology developed to overcome the IoT applications challenges.
In this article, we will discuss Sigfox technology and its significance in connected technology.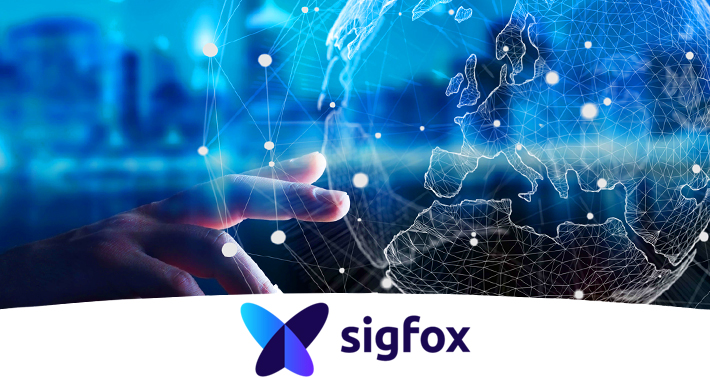 What is Sigfox Technology?
Sigfox is a long-range wireless communication that offers custom solutions primarily for low-throughput Internet of Things (IoT) and M2M applications by availing its end-to-end IoT connectivity services using its patented technologies. The Sigfox network protocol has base stations that are integrated with software-defined radios. The end devices use binary phase-shift keying (BPSK) modulation to connect to the base stations.
Sigfox employs the differential binary phase-shift keying (DBPSK) and the Gaussian frequency-shift keying (GFSK) that enables communication using the Industrial, Scientific, and Medical ISM radio band which uses 868MHz in Europe and 902MHz in the US. It utilizes a wide-reaching signal that passes freely through solid objects, called "Ultra Narrowband" and requires little energy, being termed a "low-power wide-area network" (LPWAN). The network is based on a one-hop star topology and requires a mobile operator to carry the generated traffic.
Sigfox has partnered with a number of firms in the LPWAN industry such as Texas Instruments, Silicon Labs, and ON Semiconductor. The ISM (industrial, scientific and medical ) radio bands support limited bidirectional communication. The existing standard for Sigfox communications supports up to 140 uplink messages a day, each of which can carry a payload of 12 octets at a data rate of up to 100 bits per second.
Development process
Sigfox is a French global network operator founded in 2010.
In 2015, Sigfox was present in 12 countries.
In 2016, the number of countries has tripled.
In 2017, 45 countries participated in the Sigfox technology network. 2017 was marked by strong growth for the French company. The number of objects connected to the Sigfox network rose by 65% in 2017.
In 2018, Sigfox plans to further leverage the power of the data collected across its network, with the aim of reaching 60 countries and over a billion people worldwide. The company also plans to connect up to 6 million objects by the end of the year, with the long-term ambition of positioning itself as a key B2B (business-to-business) data provider.
In 2019, Sigfox officially covers the world with 70 countries participating in this network (30M messages sent per day, 5.3M km2 covered, 1.2 billion people, 16.2M Registered Devices).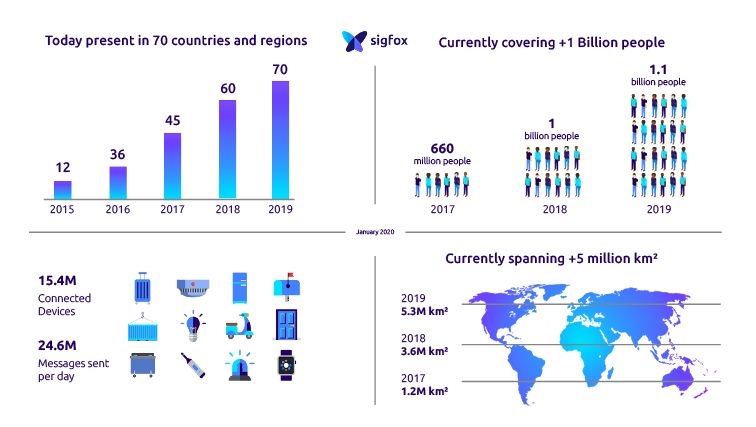 The development process of Sigfox from 2015 to 2019 (Source: Sigfox)
Technology Principles
Ultra-Narrow Band (UNB)
Sigfox is using 192KHz of the publicly available band to exchange messages over the air. The modulation is the Ultra-Narrow band. Each message is 100 Hz wide and transferred with a data rate of 100 or 600 bits per second depending on the region. This is what enables the Sigfox base stations to communicate over long distances without being impacted by the noise.
Random access
Random access is a key feature to achieve a high quality of service. The transmission is unsynchronized between the network and the device. The device broadcasts each message 3 times on 3 different frequencies (frequency hopping). The base stations monitor the spectrum and look for UNB signals to demodulate.
Cooperative reception
A device is not attached to a specific base station, unlike cellular protocols. The broadcasted message is received by any base station in the range, which is 3 on average.
Small messages
In order to address the cost and autonomy constraints of remote objects, Sigfox has designed a communication protocol for small messages. The message size goes from 0 to 12 bytes. A 12-byte payload is enough to transfer sensor data, the status of an event like an alert, GPS coordinates or even application data. A message with a 12-byte payload takes 2.08s over the air with a rate of 100 bps.
Features of Sigfox Network
Easy to use
As an operated network there is no specific local network equipment to install when using Sigfox. The network is always available and ready to use.
There is no need for complex and expensive platforms and tools to manage the connectivity for the devices. Easy to use integration APIs (application programming interface) and management applications are included in the connectivity package.
Long-range
The Sigfox network technology allows for a very long-range between objects and transceivers, which enables the network to easily cover large areas and reach underground and buried objects.
The Sigfox technology allows for better penetration than traditional cellular networks such as Global System for Mobile (GSM), while still ensuring high reliability and radically lower consumption.
Low energy consumption
To minimize energy consumption, the Sigfox network is only used when the object needs to transmit a payload. This fundamental principle is the major reason why objects that use Sigfox consume radically less power than those using traditional connectivity solutions.
The exact power consumption over time obviously depends on how many messages are sent and how often. For example, a smart energy meter object that transmits 3 messages a day using a 2.5 Ah battery. Existing solutions would typically last for months whilst Sigfox enabled smart meters to run up to 20 years.
Frequency-independent
Sigfox is not tied to any specific frequency. The network can adapt to the different ISM (Industrial, Scientific, and Medical) frequencies and therefore be available worldwide today, but can also if needed adapt to other frequencies, such as licensed bands or "whitespaces".
Low cost
Sigfox communications costs are radically more attractive and justifiable for almost any business case in comparison with existing connectivity solutions. Included in the annual subscription fee Sigfox provides connectivity, APIs, web-based administration, and support as an all-inclusive fee without any additional charges.
Sigfox Network Architecture
The Sigfox network has a horizontal and thin architecture composed of 2 main layers. The first layer is the Network Equipment layer that consists of bases stations and other elements. The purpose of this layer is to receive messages from the IoT device ad transmit them to the Sigfox Support systems this network has a one-hop star topology allowing the IoT devices to connect to any base station near it. The Sigfox Support System is the second layer constituting the core network in charge of processing the messages and sending them through callbacks to the customer system. This layer provides the entry point of the various actors such as Sigfox, end customers, Sigfox operators, and channels to the ecosystem using web interfaces or APIs. This layer also includes modules & features which are essential to ensure the deployment, operation, and monitoring of the network. Besides, this layer includes repositories and tools to analyze the data collected or generated by the network. The public internet connects the two layers over secure VPN connections.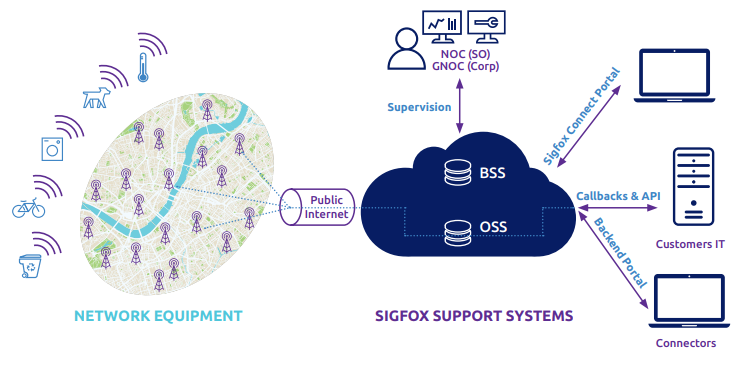 Network Architecture of Sigfox (Source: Avnet)
Overview of three major LPWAN technologies
| | | | |
| --- | --- | --- | --- |
| | Sigfox | LoRaWAN | NB-IoT |
| Modulation | BPSK | CSS | QPSK |
| Frequency | Unlicensed ISM bands | Unlicensed ISM bands | Licensed LTE frequency band |
| bandwidth | 100 Hz | 250kHz and 125kHz | 200 kHz |
| Maximum data rate | 100 bps | 50 kbps | 200kbps |
| Maximum message per day | 140 (UL), 4 (DL) | Unlimited | Unlimited |
| Maximum payload length | 12bytes (UL), 8bytes (DL) | 243 bytes | 1600 bytes |
| Bidirectional | Limited/half-duplex | Unlimited | Unlimited |
| Range | 10km (urban), 40km (rural) | 5km (urban), 20km (rural) | 1km (urban), 10km (rural) |
| Interference immunity | Very high | Very high | Low |
| Authentication & encryption | Yes (Data encryption is optional) | Yes (AES 128b) | Yes (LTE encryption) |
Sigfox Technology Applications
In terms of warehouse security improvement, Sigfox enables business owners to secure their facilities at a low cost and also tackles the main weakness of alarm systems – downtime due to jamming as it is resistant to jamming, so you would not have to worry about any intruder attempts to jam the signal. In addition, not only does warehouse security benefits from it but also other applications such as food preservation or vehicle tracking can apply to the Sigfox network. Moreover, Sigfox technology is designed for low energy consumption, which means connected presence detectors can run for months or even years without replacing the batteries.
Sigfox technology poses the benefit of tracking your asset to optimize the supply train as it has broken down the barriers that traditional tracking technology comes up against. Asset tracking is now affordable, easy to install and maintain, and available worldwide. Tracking devices can run for months or even years without a battery change, and they work both indoors and outdoors. Trackers transmit location data from fleets of returnable containers, as well as valuable information on the whereabouts of other deliveries, including pallets, parcels, and trolleys. This offers value chain security, peace of mind, and efficiency.
In today's utility marketplace, efficiency is king. Sigfox-enabled IoT solutions deliver a reliable, user-friendly option for utility grid connectivity. These solutions pair well with all types of utility management operations like reducing costly on-site meter reading, cutting down on unnecessary maintenance visits, monitoring water supply and wastewater network, remotely surveying electrical poles, or even reading the level of storage tanks remotely in real-time.
As we all know, smart homes and smart buildings are no more a strange concept in the modern world today but Sigfox's reliable network dedicated to the IoT will take the notion to a whole new level because of many advanced solutions from it. First of all, it's never been easier to gather real-time insights into infrastructure stability, rodent infestation, trash collection, and more. Secondly, it is conducive to monitor building systems, trach heavy equipment, and secure valuable assets with wireless plug-and-play solutions that work well in both large as well as small buildings, and more importantly, they are low-cost, autonomous, and flexible.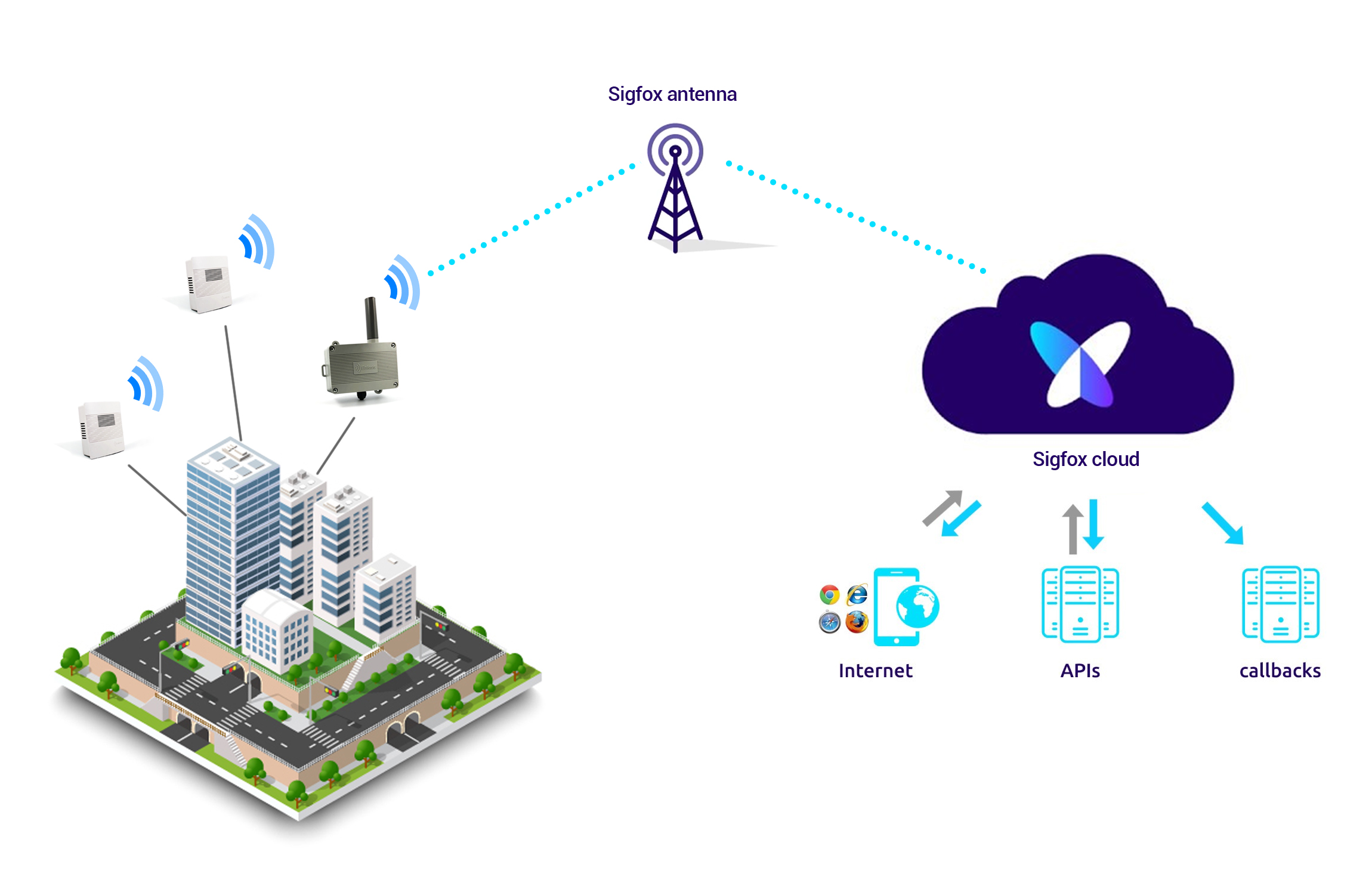 Sigfox application for Smart Home (Source: Endless Wireless)
Representative products
Wireless thermometer, hygrometer barometer, Sigfox IoT
This device is manufactured by Comet System. It measures the ambient temperature, relative humidity, and atmospheric pressure from the built-in internal sensors. The measured values are displayed on the LCD and are sent over an adjustable time interval (10 minutes to 24 hours) via radio transmission in the Sigfox network to the cloud data store. Sensor setup is done either by computer (locally, by communication cable) or remotely via the cloud web interface.
For each measured variable, it is possible to set two alarm limits. The alarm is signaled by the symbols on the LCD display and sends an extraordinary radio message to the Sigfox network, where it is forwarded to the end-user by email.
The device is powered by an internal Li battery whose lifetime is dependent on the transmission range and operating temperature and ranges from 4 months to 8 years. The battery status information is on the display and in each sent message.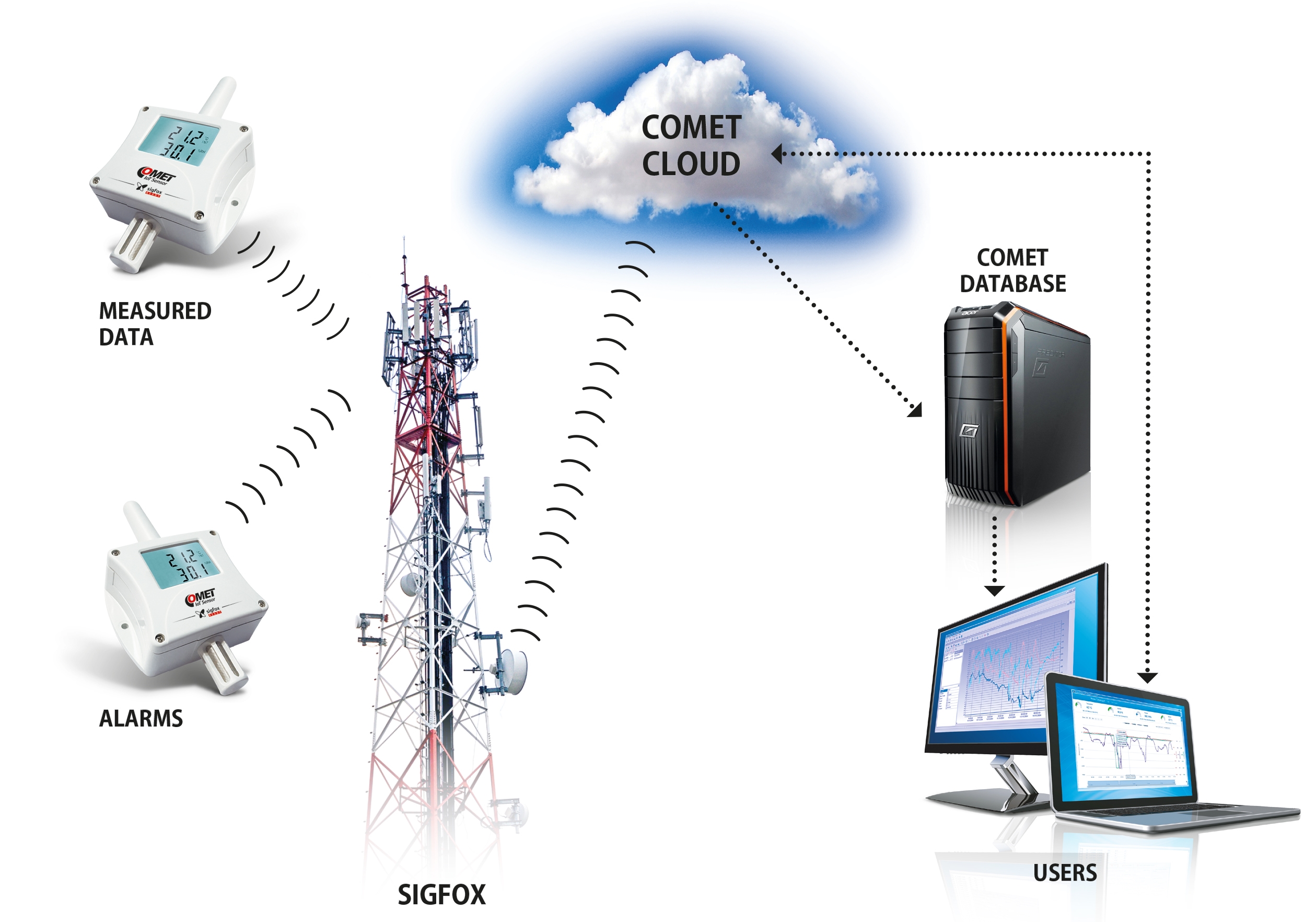 IoT sensor by Comet System
Field Test Device
Field Test Device – Network validation, prior to your solution deployment.
The Sigfox Field Test Device by Adeunis is a ready-to-use handset that establishes the connection to any operated network using the Sigfox protocol. It enables the transmission, reception and immediate display of the radio frames in the network used.
Field test device for public or private Sigfox network testing before the connected objects are used. Equipped with a large LCD screen, you can check all operating information (GPS coordinates, temperature, battery …) and use of the network (uplink, downlink, sensitivity, packet error rate …). It's ultra-fast and precise GPS optimizes geolocation operations.
This device is particularly suitable for the validation of applications such as sensor networks, asset tracking, smart buildings, metering, security, or M2M. With a built-in rechargeable battery, this demonstrator allows for many hours of use and can be recharged with any type of mobile phone charger.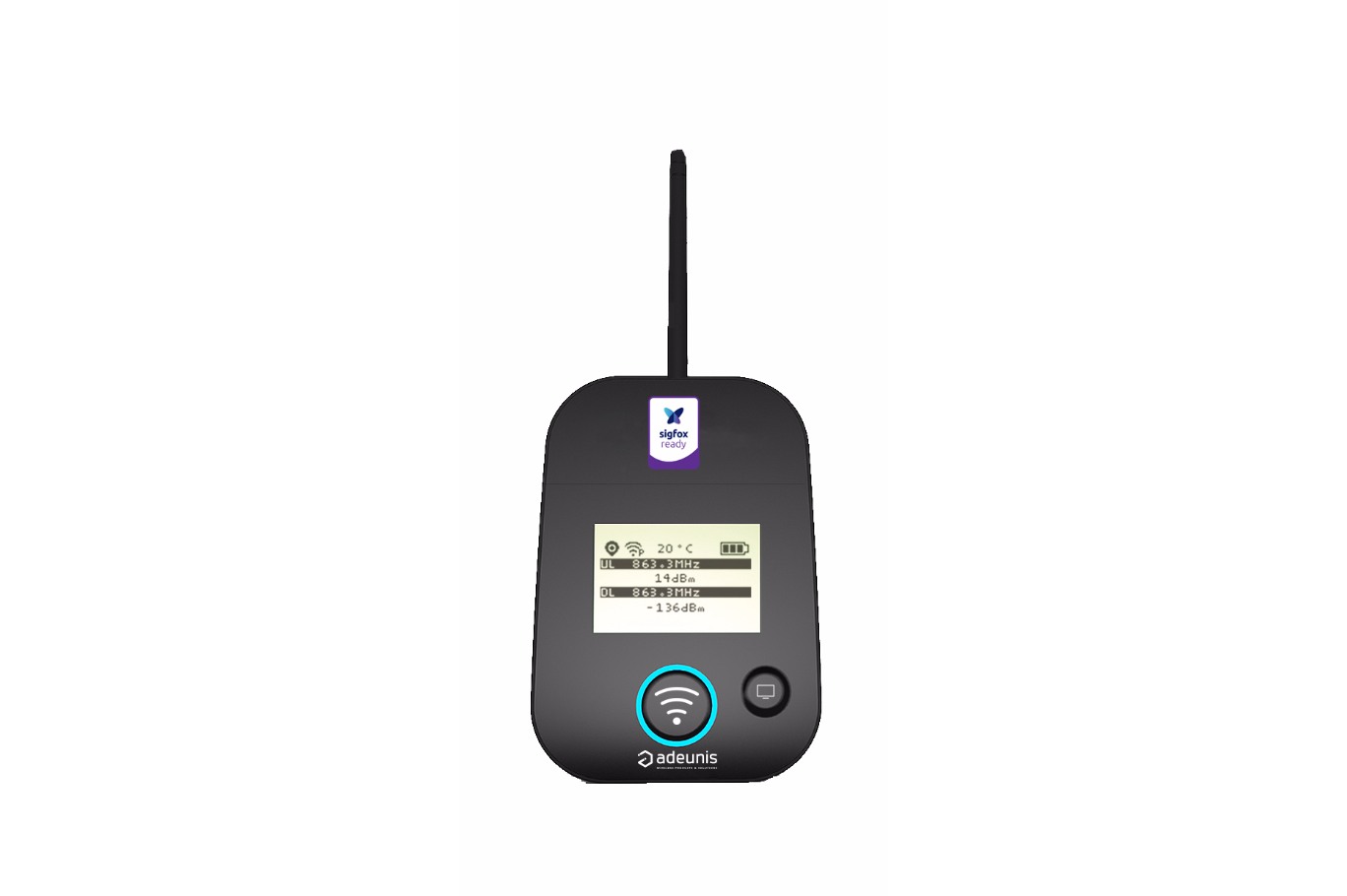 Sigfox Field Test Device by Adeunis
Marine Smart Hub
The IoT Marine is a yacht companion manufactured by IoT Solutions Ltd. It is a simple device that offers the possibility of monitoring the yacht's bilge pump/s, boat battery voltage, boat geographic location, and boat intrusion. It helps to keep in touch with the status of yachts' key parameters and be alerted on your mobile via SMS and email if anything goes wrong. Sensors of IoT Marine include temperature, button, sound, motion, smoke, electricity flow, voltage, combustible gases.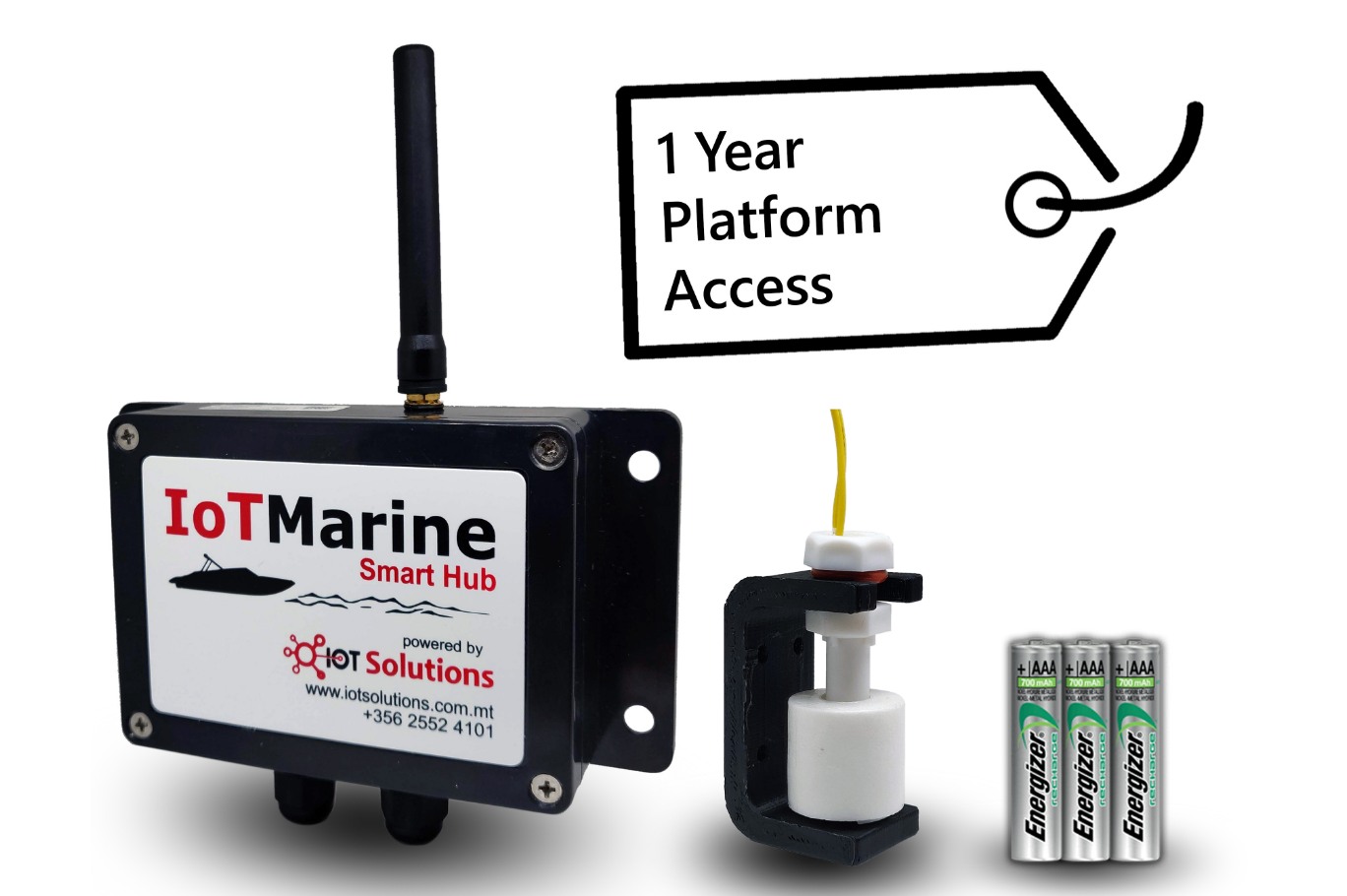 Marine Smart Hub by IoT Solutions
Sigfox Soil Moisture Sensor
The Sigfox Soil Moisture Sensor is the modular design Sigfox wireless sensor, which is manufactured by Daviteq Company. The sensor consists of 2 parts: A sensor probe and a Wireless transmitter. It can be used to measure soil moisture, fertilizer, and soil erosion, too. With ultra-low power design and smart firmware, the sensor can last up to 10 years with a single battery C.
The Moisture sensor uses Frequency Domain measuring technique to deliver highly accurate and stable measurement results. The Moisture value is not affected by fertilizer content and temperature like other simple capacitive Moisture sensors on the market. The sensor will transmit data at a distance of kilometers to Sigfox stations. The typical applications of this sensor are smart farm, smart agriculture, automatic irrigation system, soil quality measurement, soil erosion monitoring, …
Sigfox Soil Moisture Sensor by Daviteq
Conclusion
There is no one size fits all LPWAN technology, each one has its pros and cons and Sigfox is no exception. In general, the technology used by Sigfox contributes a long-range, low-power, low throughput communications network with excellent protection from environmental interference allowing data to reach many applications effectively. Thanks for reading this article. if you have any questions, feel free to contact us at Email: info@daviteq.com
Reference
https://en.wikipedia.org/wiki/Sigfox
https://www.businesswire.com/news/home/20180214005898/en/Sigfox-Presents-2017-Results-2018-Roadmap
https://lafibre.info/images/3g/201302_sigfox_whitepaper.pdf
https://www.avnet.com/wps/wcm/connect/onesite/03aebfe2-98f7-4c28-be5f-90638c898009/sigfox-technical-overview.pdf?MOD=AJPERES&CVID=magVa.N&CVID=magVa.N&CVID=magVa.N
https://partners.sigfox.com/products/iot-sensor
https://partners.sigfox.com/products/field-test-device-sigfox-868
https://partners.sigfox.com/products/marine-smart-hub-rc1
https://www.daviteq.com/en/?prd=wireless-sensors-actuators_WSSFC-SMT_sigfox-soil-moisture-sensor