1.1 Introduction
SVF128 Vortex flow meter is a smart vortex flowmeter utilizing the "Karman vortex" theory to measure the velocity of fluid then calculate the flow rate in volume or mass. SVF128 uses for various fluids such as gas, steam, and liquid. The flow meter comes with local or remote display and different type output such as 4-20mA, pulse, RS485 Modbus RTU, Hart for easily integrate into any PLC, SCADA, DCS system. The flow meter can be upgraded with the latest wireless connectivity such as Sub-GHz, LoRaWAN, Sigfox, NB-IoT, 3G/4G... allow it to connect to any IoT platform such as Globiots, Azure, AWS...
Typical Applications: Saturated Steam, Super-heated Steam, Compressed Air, Liquid, Industrial Gases: Nitrogen, Oxygen... or Fuel Gas: Natural Gas...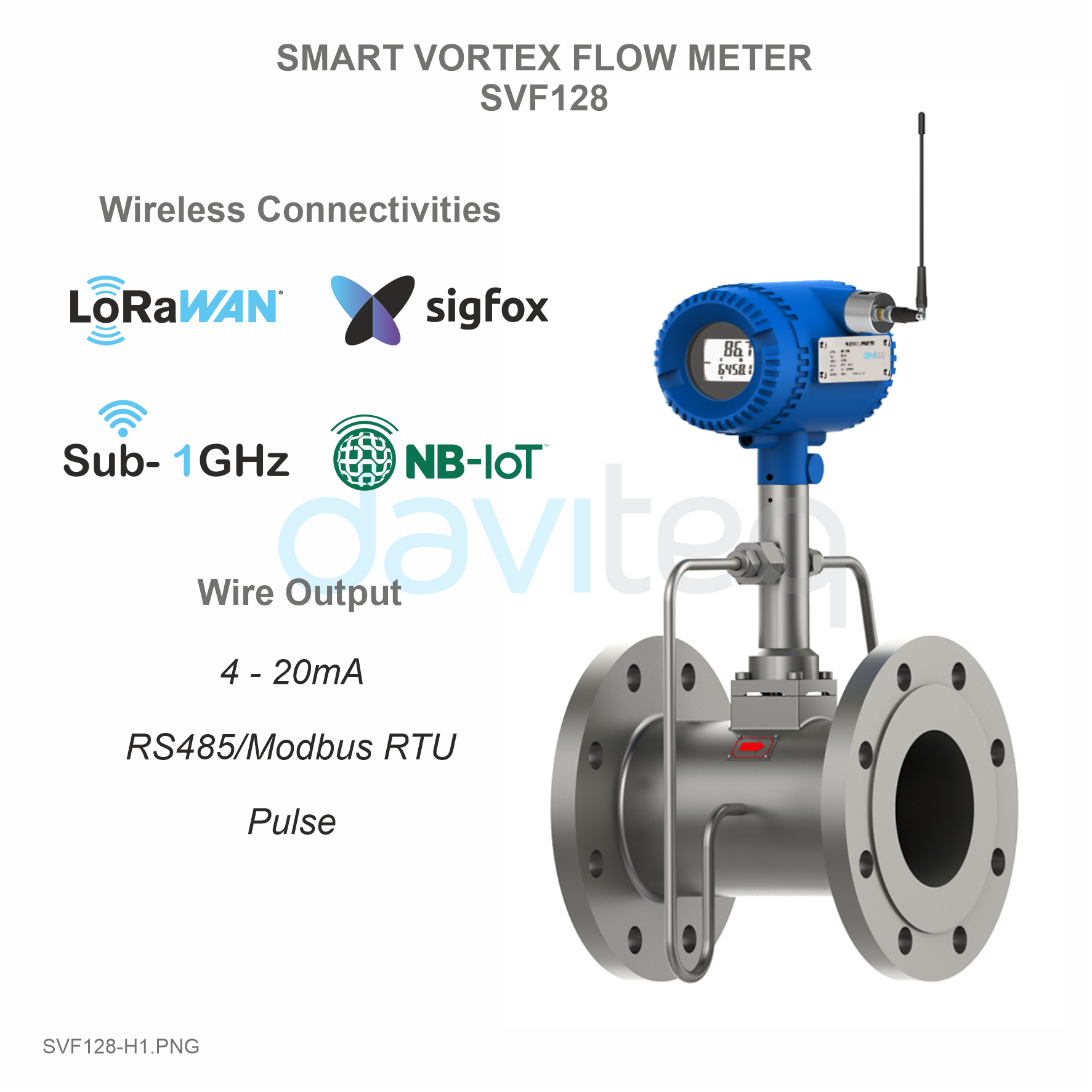 1.2 Specification
Process Fluids
Liquid, Gas, Steam, Compressed Air
Process connection
Flange or Wafer for size DN15~DN300 or 0.5 inch to 12 inch
Local Display
Standard integral LCD display. Optional Remote Display with 10m cable
Measurable Parameters of the standard version
Volumetric flow rates and totalizer, velocity.
Measurable Parameters of Multi-variables version
Mass flow rate, volumetric flow rate, temperature, pressure, velocity.
Output
Pulse, 4~20mA (HART V5, V7 @4~20mA), Modbus-RTU RS485
Process Pressure
1.6MPa (232 psiG),2.5MPa (362 psiG),4.0MPa (580 psiG),6.3Mpa (913 psiG) for option
Process Temperature
Standard type: -40 ~ 150 °C or -40 ~ 302 °F
Medium type: -40 ~ 250 °C or -40 ~ 482 °F
High temperature type: -40 ~ 350 °C or -40 ~ 662 °F
Gas flow Turndown
DN15, DN20: Turndown ratio 10:1
DN25, DN32: Turndown ratio 15:1
DN40~DN300: Turndown ratio 30:1
Steam flow Turndown
DN15, DN20: Turndown ratio 11.6:1
DN25, DN32: Turndown ratio 17.5:1
DN40~DN300: Turndown ratio 35:1
Liquid flow Turndown
23:1
Accuracy
Gas/Steam: ±1%RD(Re ≥ 20000), ±2%RD(10000 ‹ Re ‹ 20000)
Liquid: ±0.75%RD(Re ≥ 20000), ±2%RD(10000 ‹ Re ‹ 20000)
Repeatability
±0.3% of flow reading, ±0.05 °C for temperature, ±0.05%FS of pressure
Upstream/Downstream required
15D / 5D
Viscosity allowance
DN15 or 0.5 inch ≤ 4mPas
DN25 or 1 inch ≤ 5mPas
DN40~DN300 or 1.5~12 inch ≤ 7mPas
Anti-vibration (both punch and fixed freq)
0.5g
Power Supply
15.5 .. 42 VDC

1.3 Measuring principle
Vortex flowmeter measures the flow by sensing the vortices in the flow according to "Karman Vortex Street". When putting a shedder in the path of flow, vortices are alternately shed on each side (see picture 1.1)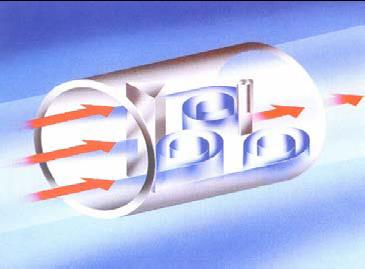 Picture 1.1: Von Karman Vortex
The frequency of vortices (f) is in direct ratio with a velocity of flow (v) and in inverse ratio with a width of obstacle (d).
f=St*v/d (formula 1)
v=fd/St (formula 2)
St is Strouhal Number, is a dimensionless constant related to the shape of the shedder, which can be get by testing. St is Strouhal Number, is a dimensionless constant related to the shape of the shedder, which can be get by test.
Because d and St are constant, flow velocity (v) and average velocity (v0) also have a certain relationship ( v0=v/(1-1.25d/D) ), so, you could get v0 by having the frequency of vortices shedding (f) , and then get the mass flow. The ratio between the quantity of vortex in a certain period of time and the volume of the flow pass by is called the coefficient of the instrument (K)
K=N/V (formula 3)
VFM60 series digital vortex flowmeter is designed to provide the most reliable performance. Every part utilized is universal for all VFM60 series products. The circuit boards use signal isolation and self-diagnose technology. VFM60 series utilize spectrum analyzing signal process technology, which ensured lower under measuring limit and better turndown ratio. The enhanced version uses a unique dual-sensor design and vibration signal analyzing technology to improve its anti-vibration capability and provide a more stable reading. VFM60 also has a density calculation function as an option, which means it can calculate the density and measure the mass flow rate of air / saturated steam/superheated steam without a secondary device. It also has AGA-NX-19 and AGA-8 algorithms to measure natural gas directly.